Chewy Fig Bars
Hello my wonderful readers! I hope this week is treating you well. My week started off with an incredible Zumba class. It is so much fun (and a great calorie-burner)!
Tonight's recipe is one that came about very randomly. I was at Trader Joe's (one of my all time favorite stores ever) and came across dried black mission figs. I have never actually eaten a fig besides in a Fig Newton 🙂  and I absolutely love Fig Newtons, so I figured that I would probably enjoy these little treasures (eventhough I wasn't sure what I was going to do with them). 🙂                                                                                                                                   
Here are the ingredients you'll need for 12 bars:


14 dried figs (You need to soak these in water overnight)
1 cup walnuts
1 cup pecans
¼ cup coconut butter
2 tbsp. cinnamon
1 tbsp. vanilla extract
I also needed to add 2 tbsp. brown sugar (I used splenda to cut down on the calories) to add a little more sweetness.


Preheat the oven to 350 degrees.
Put the walnuts, pecans, coconut butter, cinnamon, brown sugar and vanilla extract into a food processor and blend until thoroughly mixed.

Take about ½ of the nut mixture and pat it down on a sprayed 8X8 baking dish (creating a crust).
Place in oven for about 10 minutes.

Place figs in a food processor and blend until all of the big pieces are chopped up.

Carefully spread the blended figs on top of the baked crust. Be sure to do it carefully so it doesn't pull up the crust.


Now, top with the remaining mixture and cool in the refrigerator. After they are completely cooled, cut and ENJOY!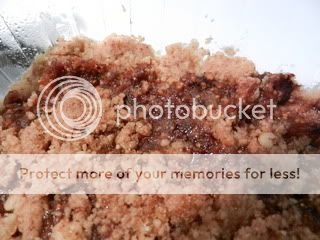 These bars are absolutely delicious (and they are good for you too!!!) They almost taste like the crumbly top of an apple pie. Yum!
Nutrition Information: Each bar has about 220 calories and TONS of nutrients.
Nutrition tip: Coconut butter has amazing health benefits. Coconut butter can help boost the immune system, fight bacteria and viruses, helps prevent cancer, and is good for maintaining healthy hair and skin. Figs are a great source of potassium, dietary fiber, and help lower blood pressure. Walnuts and pecans are both excellent sources of antioxidants.
After making these bars, I really want to try a fresh fig (I hear they have an amazing flavor).
Have you ever had a fresh fig? If you have, where can I find one?
Probiotic Update: I'm on day 6 of my probiotics. I'm definitely feeling more energized.  🙂
Stay tuned for Operation Nutrition's good news (part 2)