Maryland Crab Soup
Hello wonderful readers! I don't know about the weather near you, but it's a rainy day here in Maryland (which means that it's a perfect day for some warm Maryland Crab Soup).
Maryland is known for the Maryland Blue Crab and the wonderful dishes you can make from it. If you've never had a true Maryland crab recipe, then you must try one. You won't be sorry!
This is a picture of steamed crabs that we enjoyed over the summer. Once crabs are in season, I will definitely be posting an entry on steamed crabs. Yum! 

This is a semi-homemade recipe since the majority of the spices come from a spice kit. It's so easy to make and it's very low in calories.
Before giving you the recipe, I have to apologize for the picture quality. You see, while trying to take pictures of the soup cooking, I dropped my camera into the soup! No joke. It's fried. So this soup actually turned out to be a very expensive meal since now I have to purchase another camera.
Here are the ingredients you'll need for a serving of 10 (serving size is 1 cup):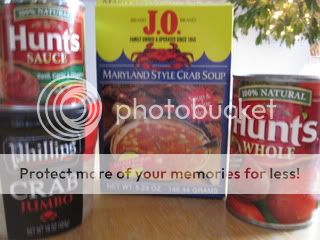 1 box of J.O. Spice Maryland Style Crab Soup Mix
1 can (14 ½ oz.) whole tomatoes
1 can (8 oz.) tomato sauce
1 lb. crab meat *
First, combine package contents with 6 cups of water.Crush the whole tomatoes and then add these and the tomato sauce to the soup mixture.

Bring to a boil, reduce heat and cover. Simmer for 30 minutes.

Add crab meat. Cook over low heat for 5 minutes. Enjoy!


*Since crabs are not in season just yet I used canned crab meat. You want to select "lump" meat because it's chunkier and has a more delicious flavor. Canned crab meat can be very pricey, so it's best to find it on sale or even at a place like BJ's or Sam's Club. And please, don't drop your camera into the soup. 🙂
Nutrition information: 1 cup of this DELICIOUS soup only has 100 calories!!! You'll be amazed that just 100 calories can have this much flavor.
Have you ever had a Maryland steamed crab? If so, what were your thoughts?
Operation Nutrition has a lot of exciting news to share with everyone. (Stay posted)